adevyish
— for

homelesshats' 1D Big Bang —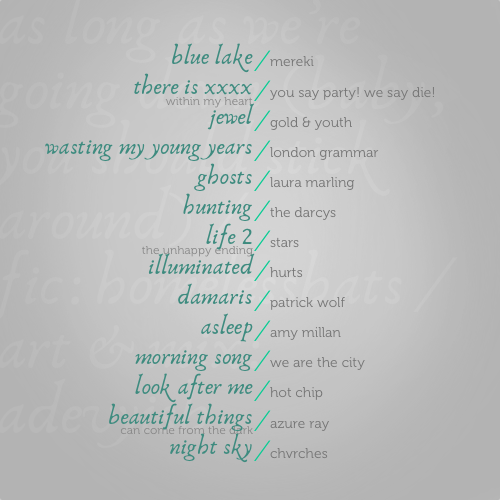 — LISTEN ON 8TRACKS / DOWNLOAD —
blue lake — mereki
/ we can go back / …
/ I got you under my seat / waiting for a new day / we can throw our shoes into a blue lake
there is xxxx (within my heart) — you say party! we say die!
/ now I have cried / my share of tears in the night
jewel — gold & youth
/ the lies you told me are not that great
wasting my young years — london grammar
/ I'm chasing old ideas / it doesn't matter
ghosts — laura marling
/ "these are just ghosts that broke my heart before I met you"
hunting — the darcys
/ who is out there with you / I'm waiting
life 2: the unhappy ending — stars
/ here is the part where you save me, here is the scene where you save the day / why can't the ending be happy? / why must it always resolve this way?
illuminated — hurts
/ suddenly my eyes are open / everything comes into focus
damaris — patrick wolf
/ god damned / Damaris / I loved you
asleep — amy millan
/ sing me to sleep / sing me to sleep / I don't want to wake up / on my own anymore
morning song — we are the city
/ do you feel fine? / please pull me like the moon pulls the tide / …
/ it's a door shut tight / it's a morning song when I weep
look after me — hot chip
/ look after me and I'll look after you / that's something we both forgot to do
beautiful things can come from the dark — azure ray
/ someone else's boy, I have hope for you / that you will keep your love for the world
night sky — chvrches
/ we can never look back